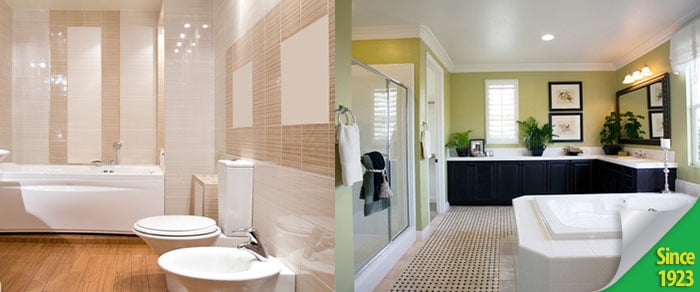 BENEFITS OF CONVERTING FROM TUB TO SHOWER
Start taking a shower…not a bath! Showers make your bathroom more functional, which is why bathtub to shower conversions are among the most popular home improvement projects. If you're ready to replace your old, bulky bathtub, we'll help you through the process, from which showerhead to choose to custom frameless shower doors and enclosures!
Aside from giving your bathroom more space, shower conversions provide additional benefits:
Increased home value: Installing a shower is an excellent way of modernizing your home and taking advantage of new developments. Outdated tubs don't just take up space, but they also present an eyesore if not properly maintained (such as mildew blots on your caulking). Showers improve the overall look, functionality, and value of your bathroom!
Less water use: Taking a bath typically requires about 50 or more gallons of water, while an average shower only uses about 10-25 gallons. That's a significant amount saved in water use! Contemporary showerheads are able to conserve water much better than before, so installing a new shower is an economical choice that will help you cut down on your water bill.
Opportunity for creative remodeling: Because bathtub to shower conversions open up all this free space in your bathroom, you'll have the opportunity to create the ideal shower area. We can install a shower head in the ceiling, or add a bench in to take up a whole side. Showers also make your bathroom more handicap-accessible, and you can tailor your shower area to meet specific demands. Bathtub to shower conversions require an extensive bit of planning to ensure that certain functions of the shower do not interfere with other utilities in the bathroom. For example, the shower door must be able to open freely without a toilet or sink getting in the way. After the planning process is complete, our technicians will handle all of the piping, tiling, and grouting to create your perfect shower!
We'll help you plan the whole conversion process to give you options that fit your budget yet allow you to incorporate your personal style.