BATHROOM AND KITCHEN REMODELING IDEAS
There are many reasons why you might be considering a kitchen or bathroom remodel– maybe you're even considering both! Perhaps you are looking to update and modernize the look of your home.
Or perhaps, your lifestyle has changed, and you need your home to reflect that. But where to begin? If you're in need of some remodeling inspiration, call on Schuler Service to help you with all your bathroom and kitchen remodeling needs!
COME VISIT OUR BRAND NEW SHOWROOM
Need some help finding inspiration for your new kitchen or bathroom? Then stop into our new 1,800 sq. ft. showroom in Allentown, PA!
With displays featuring everything from faucets to toilets, to countertops and vanities, to ceramic tile and vinyl flooring, in styles ranging from the trendy to traditional, you're sure to find something that inspires you. And of course, our knowledgeable staff are available to help you with any remodeling questions you may have!
Drop in any Monday-Friday from 9 am to 4 pm, or give us a call today to schedule an appointment!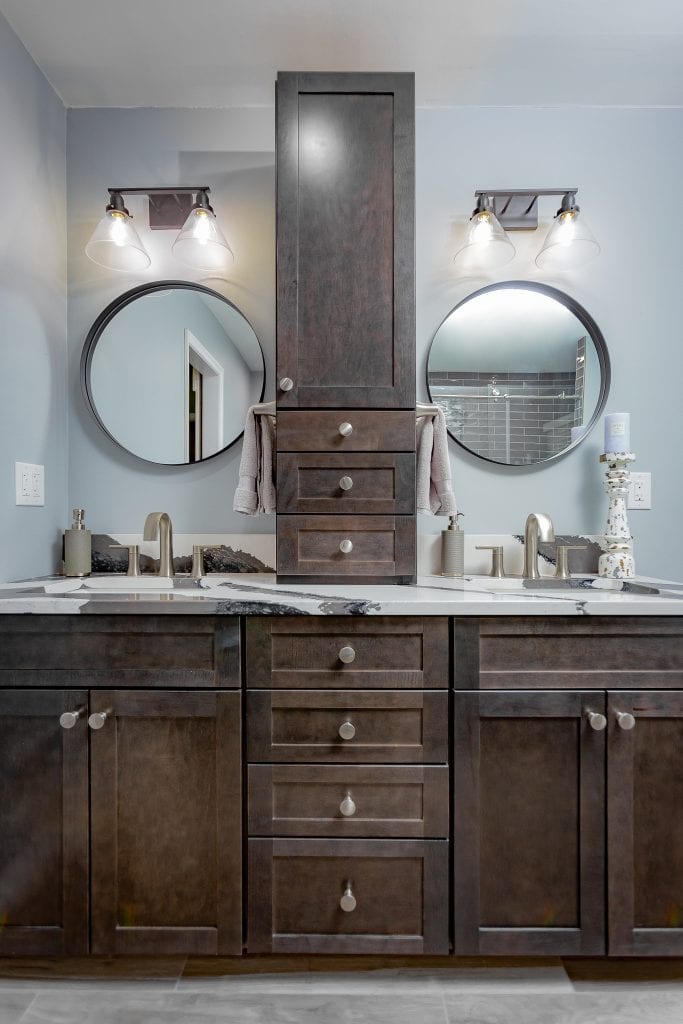 BENEFITS OF REMODELING YOUR BATHROOM
While the most common reason for bathroom remodeling is to upgrade the look of your bathroom space, a fresh new aesthetic isn't the only benefit to a remodel!
Remodeling your bathroom can:
Increase the value of your home-
By merely replacing your outdated fixtures with new ones, you can increase your home's market value by up to $3,000!
Give you an opportunity to install energy efficient fixtures-
According to the EPA, about 10% of American homeowners have installed energy efficient fixtures in their bathrooms, saving them billions of dollars in energy costs.
Add space to your bathroom while making it more luxurious-
Remodeling is the perfect opportunity to figure out how to optimize the space in your bathroom, or to give yourself more! It also gives you a chance to add in any extra luxuries you may want, like a television for your bathtub.
Provide a chance to correct any fixtures that have leaks or other serious problems-
Whether your sink is cracked or your shower head is broken, you can replace any fixtures that are not up to snuff during a bathroom remodel!
BENEFITS OF REMODEING YOUR KITCHEN
In many homes across the country, the kitchen is a gathering place of sorts. It's not just a place for cooking, but a place for eating, and sharing, and communing. That's why it's important that your kitchen not only looks nice, but that it is safe, comfortable, and functional as well. Remodeling projects can help you have the kitchen of your dreams!
Benefits associated with kitchen remodeling include:
Improving the functionality of your kitchen, so that cooking is more efficient and easier to do.

The opportunity to make your kitchen more sustainable by replacing your old cabinets and furniture with new ones made from bamboo, salvaged wood, or other recyclable materials.

Lower energy costs when you introduce newer more energy efficient appliances that use up less water and electricity.

Making your kitchen more comfortable for company to enjoy, and safer for everyone who uses it with new innovations!

Updating the overall look of your kitchen, in some cases, can change the feel of the whole house! It's often the starting point for renovations, for this reason.