Picture yourself preparing a Sunday morning breakfast in your newly remodeled kitchen. If this sounds like a dream that you want turned into a reality, don't wait any longer! Call Schuler Kitchens & Baths for your entire kitchen remodeling needs in Allentown. From cabinet refacing to concrete countertop installations to electrical rewiring, we will handle every step of the remodeling process, tailored to your needs and preferences. Check out what your neighbors are saying in our client reviews!
Start Your Kitchen Remodel Today!
When you call Schuler Kitchens & Baths, you will not only receive top-of-the-line service, but you'll also experience true reliability, punctuality, and honest professionalism. With our on-time service and standard floor-to-ceiling contract, we will help make your kitchen remodeling dreams come true!
Regardless of the size or shape of your kitchen, we'll provide you with showcase-quality remodeling. Versatility is our forte, so expect every part of your kitchen to come out exactly as you pictured it.
Our custom and stock cabinets come in a variety of styles and are large enough to fit everything you need. We also provide cabinet refacing services, making the old look new. So you can either replace your cabinets, or give them a complete makeover!
From laminate to solid surface, our featured countertops blend functionality and style. Choose from a wide selection of concrete countertops, as well as granite and laminate patterns, colors, and designs to suit any kitchen atmosphere.
Like our cabinets and countertops, our tilework comes in a range of fantastic styles. We'll fit new tiles on the floor or wall—you decide!
No kitchen is complete without fresh paint or wallpaper. We guarantee your walls will complement your cabinets and counters, contributing to the personality of your home.
We handle the electrical work, too, from rewiring to installing fixtures.
Once we've laid out the groundwork for the remodeling project, our technicians will start the installation process, including all electrical and plumbing components. We will oversee the construction from start to finish, and communicate with you every step of the way. This includes obtaining any relevant permits to get the work done. Once the project is complete, we will perform a final walkthrough with you to ensure your satisfaction.
Great Return on Investment
If you're looking to sell your home in the future, an updated kitchen is an attractive bonus for potential buyers and will increase the resale value of your home.  Installing new sinks, cabinets, lighting, and countertops can give you an excellent return on your investment.
If the kitchen is the highlight of a home, why not make it exceptionally inviting? By the time we finish remodeling your kitchen, you'll want to invite the entire neighborhood over for dinner!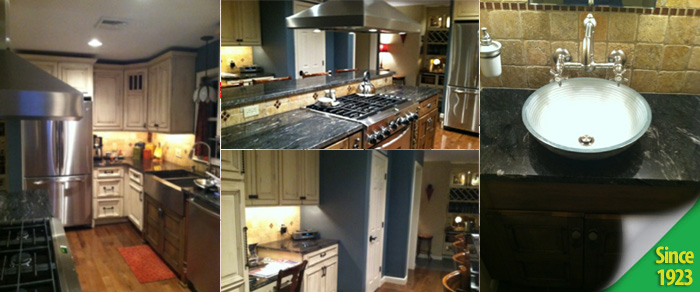 Call Us Today!
Schuler Kitchens & Baths has been perfecting the art of plumbing since 1923. Our industry has continued to change since then, with new standards and more advanced technology to help your home stay safe. But one thing has remained constant: our dedication to providing the best remodeling solutions. You've got questions, we've got answers!