Allentown Sewer Line Repair & Replacement Services
Looking for professional sewer line repair and replacement services in Allentown, PA? Call Schuler Service at (610) 434-7103 for immediate assistance. Be sure to take advantage of our current online specials and discounts!
Get the Problem Fixed Right
We offer sewer repair, replacement, and drain cleaning services using the state of the art video inspection and recording RIGID camera and line locating equipment.
From small residential clogs to municipal lines, from sinks to sewers, the tools we use at Schuler Service handle every drain cleaning job efficiently and effectively.
And no need to worry about damage to your property after the job is done. Our professional, highly trained estimators and technicians offer complete sewer line replacement with total restoration of excavation area, include grading and grass seeding. We use trenchless technology that protects your pipes and your lawn.
We also perform local municipality home pre-sale video inspections and line inspections.
What Causes Sewer Line Damage?
Substandard piping materials: These often corrode and deteriorate quickly.
Grease buildup: Clogged sewer lines from grease buildup and other foreign matter can stop sewer line flow, requiring repairs.
Soil shifts: Shifting soils and ground that freezes and thaws can cause pipes to offset, shift, crack, break, or completely collapse.
Corrosion: Broken, cracked, and leaking pipes can also be caused by corrosion.
Leaking pipe joints: This is a common problem caused by a disruption in the seal where sections of pipe have been fitted together.
Bellied pipes: A pipe that has a section that dips below the line of the other piping is called a bellied pipe. Bellied pipes can collect paper waste and other materials that slow or interrupt water flow.
Invasive tree roots: Pipes that are buried near trees can incur problems with aggressive roots that sink into the pipes, causing damage and blockage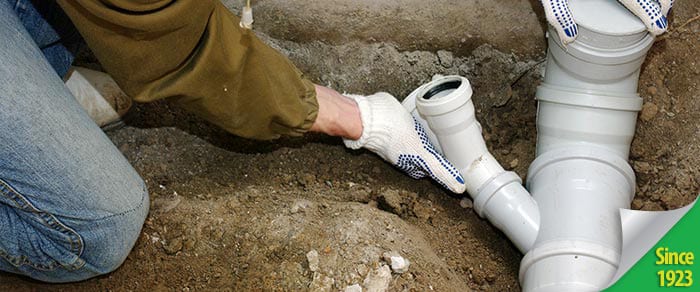 Our team at Schuler Service provides professional repairs and replacements for damaged sewer lines. We are licensed and fully insured. You can rest assured that your sewer line problems will be solved with expert efficiency.
Does your sewer line need to be repaired ASAP? Call your local Allentown technicians at Schuler Service for help. You can reach us at (610) 434-7103.