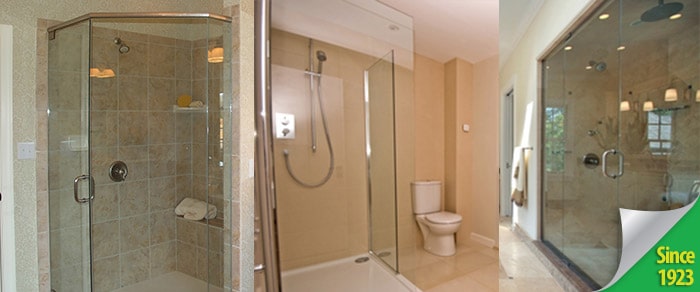 FRAMELESS SHOWER DOORS: ELEGANT MINIMALISM
Frameless shower doors and enclosures simply feature a glass pane with a door handle that lets you step into your shower as if you were stepping through a door. This is appealing to many homeowners because it creates a clean, minimalistic look in their bathrooms—and minimalism never goes out of style!
Frameless shower doors become the centerpiece for a very contemporary bathroom design model. If you have trouble visualizing these kinds of showers, you may want to take a look at some existing models in our showroom. This will help you decide if going frameless fits your preferences.
THINGS TO CONSIDER WHEN GOING FRAMELESS
There are many different elements you will need to consider before you settle on your preferred frameless shower door. You will need to get some preliminary measurements of your existing bath area to give you an idea of how large your new enclosure needs to be. If you have minimal space, try to find a frameless shower unit that will make the most of what you have. This will give you more room to move around when you step into the shower each day.
You will also need to determine the type of glass panels you want for your shower door (such as frosted glass panels), and the desired thickness of the glass. A general rule of thumb is that you want a thicker glass frame when you have a larger shower area.
Finally, we recommend having a detailed discussion with your technician to plan how the final product will shape up. This will help you decide whether you'd like to make any more changes before the plans are finalized. Let us know as soon as possible of any changes you'd like implemented. We are happy to accommodate any request!