Many different problems can affect your water heater. If your unit breaks down, it can cause you to lose functioning across many different areas in your home. This may be stressful, but if you live in the Lehigh Valley, then you have nothing to worry about. Our technicians at Schuler Service are your water heater specialists in Allentown, PA! Take a look at our client reviews to see what your neighbors are saying about our work!
Signs Your Water Heater Needs Repair
Having some basic water heater services conducted will help you find problems before they become major issues. If you notice any rust spots forming, or if you see rust-colored water coming out of the faucet, these are strong signs that your water heater is failing. It's best to contact your technicians as soon as possible.
Let us know all of the issues you've noticed with your water heater. You may even have a factory notice that will let you know when you should have some things replaced on the unit. When you provide us with this information, we will be able to most accurately inspect your unit and determine a proper solution for repair.
Don't Ignore the Signs!
If you neglect or delay repair on your water heater, further problems can occur. Your unit could start to leak, causing rusted areas to expand. The rust may also continue to seep into your water supply and put your health at risk. Leaks in your water heater could also lead to mold.
You will want to prevent all of this by simply getting proper water heater repair services. Our technicians will help salvage your water heater, or replace it with a newer model.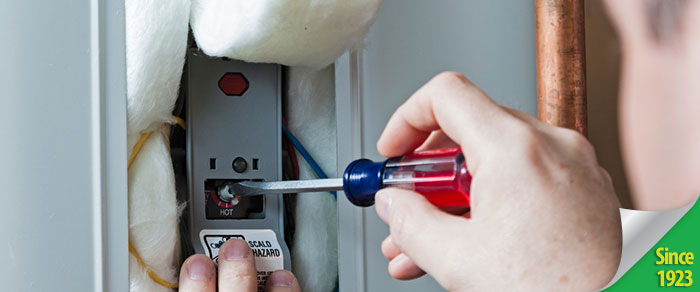 Call Us Today!
Schuler Service has been perfecting the art of plumbing since 1923. Our industry has continued to change since then, with new standards and more advanced technology to help your home stay safe. But one thing has remained constant: our dedication to providing the best plumbing solutions. You've got questions, we've got answers!