We all live busy lives and none of us want to be caught without hot water! If you are caught without it, then your heater may need to be replaced.Let our technicians at Schuler Service know–we provide same-day water heater replacements in Allentown, PA and the surrounding areas.
The Water Heater Installation Process
The installation of a hot water heater needs to follow strict plumbing and regulatory requirements. This is why it's crucial to have a licensed technician perform the installation.
Our technicians start the installation process by turning off all utilities leading to the water heater and removing any water stored inside of it so we can safely remove it and place in the new one.
Don't Get Left Out in the Cold
The benefits of water heaters are immediately noted once your new unit is installed. Showers will become more pleasant. Washing clothes will be less of an ordeal, and the clothes will look cleaner. Your dishwasher will work at full efficiency.
For your comfort and convenience, it is best to replace your water heater as soon as it breaks. At Schuler Service, we know how important it is to have a properly functioning water heater. That's why we provide same-day installations.
Our technicians are water heater specialists and can provide accurate service at affordable rates. We'll make sure your water heater is installed according to code.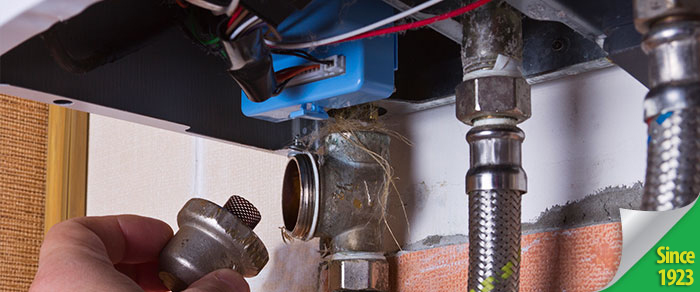 Call Us Today!
Schuler Service has been perfecting the art of plumbing since 1923. Our industry has continued to change since then, with new standards and more advanced technology to help your home stay safe. But one thing has remained constant: our dedication to providing the best plumbing solutions. You've got questions, we've got answers!