Now that it's happened and nothing you seem to be doing is working, you're getting nervous—the toilet is definitely clogged. You and the family have a busy schedule, and you all need to get into the bathroom before the day gets going. Getting professional help is more important than you may realize–call our technicians at Schuler Service for expert clogged toilet repairs in Allentown, PA. Take a look at our client reviews to see what your neighbors are saying about our work!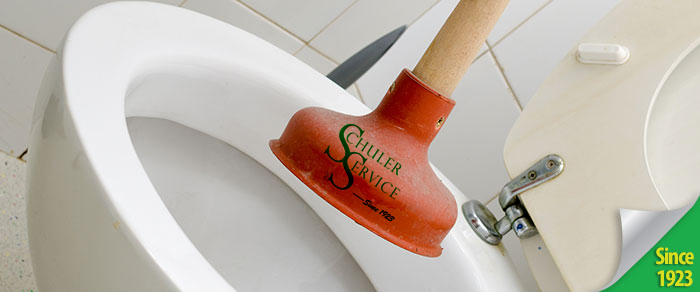 What Causes a Clogged Toilet?
Unfortunately, most people tend to think that if we want to get rid of something for good, the toilet is the place to go. We don't usually realize that toilets were not made to accommodate everything—just some things.
It's this kind of mentality that convinces us it's okay to dump cat litter, paper towel, and an excess of toilet paper into the toilet; however, these things build up and ultimately create clogs. This is especially the case when it comes to older toilets that have been worn down through time or aren't technically qualified to handle foreign material. Adding these materials also adds to the natural buildup of minerals that cling to your toilet's jets and pipes.
Why You Shouldn't Wait to Call A Professional
Leaving a clogged toilet without attention for any length of time will not only make things chaotic in the house, but it could also pave way for a more complex, expensive dilemma. Your clogged toilet could have everybody in the house scrambling around, it could permanently damage the toilet altogether, and overflow could spill out onto your floors and into your walls, ruining everything within proximity. When you call a professional plumber, you'll not only save yourself from having to face the problem, but you'll also save yourself money, time, effort, and stress.
Call Us Today!
When your toilet becomes clogged with foreign junk, don't wait for the problem to get worse. Our technicians have seen and dealt with many clients who have waited too long—and consequently had to suffer longer. Don't let that happen to you. With just one phone call, all of your problems can be resolved with friendly, professional help. Call us today and get your toilet unclogged the right way!
Our technicians at Schuler Service are skilled experts in their field. They have been trained to handle even the toughest toilet clogs the right way. With state of the art equipment, our technicians take away all of the stress and frustration that would otherwise completely consume your house or facility, and replace it with a smooth handling of the situation.