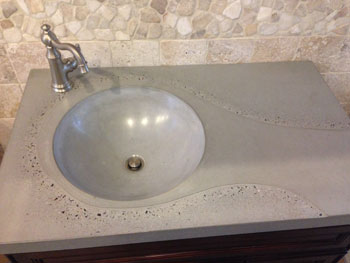 DO YOU NEED A NEW COUNTERTOP?
Is your current countertop faded, stained, or scratched? This could impact the overall value of your home. Aging countertops make an otherwise nice-looking kitchen or bathroom look less than ideal. Whether you're looking to set up a new countertop as part of a larger home remodel or as an isolated installation, Schuler Kitchens & Baths has the inventory and the technicians to give you the perfect countertop.
New countertops add a fresh, vibrant touch to your home. You'll have the appearance of a brand new kitchen or bathroom without the cost of a total room remodel. For example, replacing your old unit with a durable concrete countertop will give your room a modern, sophisticated vibe.
Whether you are looking to sell a home, wish to keep your home for a long time, or are a contractor looking to resell a recently built house, giving the place a high quality appearance will go a long way in meeting your goals. The right countertop, installed by our expert technicians, will give you that desired look.
LET US HANDLE YOUR COUNTERTOP INSTALLATION
If you're planning to install a new countertop, it's best to work with an experienced professional to ensure that the job is done right. There are many elements of countertop installation that need to fit together seamlessly.
When you call Schuler Kitchens & Baths for your countertop installation project, we'll begin the service by measuring the exact dimensions of the space available. If this is a remodel and there is an existing countertop installed, the old countertop will need to be safely removed without damaging any of the lower structure.
The new countertops will then be sized to match the existing cabinetry. The countertop will be secured in place and any additional elements, such as a sink, will be inserted into the appropriate section.
Whether your new countertop is placed in the kitchen or the bathroom, count on Schuler Kitchens & Baths for a high quality, professional installation that gives you the results you desire