Stains on Tile and How to Remove Them
Why Are There Water Stains on my Tub and Tile?
Water stains are common on bathtubs and tile, and they ultimately can make your home appear to be dirty even after it has recently been cleaned.
Many homeowners try to remove these stains through regular cleaning efforts, but they unfortunately are not successful in this effort.
There actually is an easy way to remove the stains, and with greater understanding of the cause of water stains, you will see why other efforts you may have been trying have not been successful.
Why You Have Water Stains
Most water stains are caused by hard water. Hard water is water that has natural sediment from minerals in it, and this may include minerals like calcium, magnesium and more. When you use your bathroom, water may splash onto the floor, tile and tub.
When the water evaporates, the sediment is left behind. It can harden into a thinner or thicker layer. This sediment is not easily cleaned away with regular household cleaners, so you need a different solution.
The Easy Way to Remove Water Stains
When you have water stains on your tub and tile, you need to find a way to remove the water stains quickly and easily. While using regular household cleaners is largely ineffective, the good news is that there is a fast and simple solution.
The sediment in the hard water stains will dissolve when you apply undiluted white vinegar to it. You can spray it onto the surface, or you can soak vinegar onto a cloth that can be applied to the surface. After a few minutes, use fresh water to wipe the vinegar away.
A Simple Way to Prevent Water Stains
As you can see, removing water stains is simple to do when you use the right technique. However, you can prevent this issue from developing altogether when you use a water softener.
The water softener can be installed into the main line that runs into your home, and its job is to eliminate the mineral sediment in the water before it reaches your pipes, plumbing fixtures and other surfaces.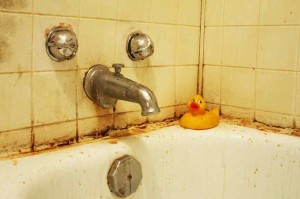 A plumber can provide you with all aspects of water softener installation service. This includes the selection of the right water softener for your home as well as the full installation process.
Hard water is a common issue for homeowners to deal with. It can cause staining on a variety of surfaces, and it also may even lead to damage to your pipes and other plumbing features. You can easily remove the stains with vinegar, and you can prevent hard water issues by installing a water softener in your home.
Trying to get rid of those awful stains in your Easton home? Call Schuler Service at (610) 434-7103 today and see how we can help!