National Kitchen & Bathroom Month Tidbits
If you've been dreaming about upgrading your bathroom or kitchen, you're in luck! October is National Kitchen and Bathroom Month. The National Kitchen and Bath Association declared October to be the best month to stage these types of renovations back in 1982.
[su_slider source="media: 5811,5812,5813″ title="no"]
Since then, this promotional month has worked to provide educational information and promotions to show homeowners the benefits of renovating their bathroom or kitchen. Did you know that upgrading your bathroom or kitchen can add incredible value to your home in addition to making your daily routines easier and more pleasant?
Find out more tidbits about National Kitchen and Bathroom Month below:
What are the top bathroom trends for this year?
2016 is all about bringing the spa experience home. New technology combines with simple design for a functional and beautiful bathroom.
Some of the most impactful bathroom trends this year include:
Trough sinks
Open concept shelving and vanities
Heated floors and anti-fog mirrors
Stand-alone tubs
Steam showers
Shower seats
Square or rectangular faucets
High-efficiency appliances such as dual-flush toilets and faucets that conserve water
How to Decide Between a Shower and Tub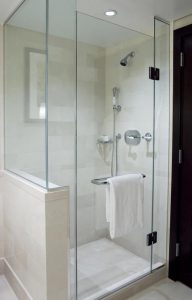 One of the most significant bathroom trends of the year is the separation of the tub and shower. Gone are the shower/tub built-in combinations.
The fixtures trending now are stand-alone tubs and stall showers. But what if your bathroom can only fit one or the other? There is no right answer when it comes to installing a shower or tub.
The important part is to consider which unit you will personally use more. If you prefer showers, upgrade the shower. If you like long, relaxing baths, upgrade the tub. A good way to get the best of both worlds if your bathroom is small and can only fit one is to split the shower and tub between two bathrooms in your home.
Top Kitchen Trends of 2016
When it comes to renovating the kitchen, technology-based upgrades are popular in addition to clean lines, simple design and functionality.
Some of our favorite trends for the kitchen include:
Apron sinks
Oversized fixtures
Simple fixtures with advanced features like 360-degree swivel action and automation
Quartz countertops
Simple cabinets and drawers with damping
Commercial-grade appliances
Avoid Trends That Won't Last
It's difficult to say which trends won't last or which trends we will look back on with dismay like shag carpeting in the bathroom. The best way to avoid trends that won't adapt to the changing times is to really consider what your genuine likes and dislikes are.
By looking past the trends and deciding on upgrades that work for your unique situation, you can avoid strange trends and renovations that won't look good after two years.
For more information on National Kitchen and Bathroom Month, call Schuler Service Inc. in Allentown, PA at 610-991-7098.