How and Why You Should Repipe Your Home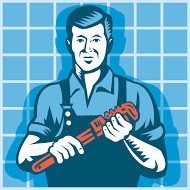 We provide a fast and professional plumbing installation and service to the local area, twenty-four hours a day, seven days a week. Our plumber technicians are bonded, licensed and insured, in order to install your new system in existing chases or hollow areas. Installing new piping increases the value of your home, and your house is supplied with the correct amount of fresh, clean water. Let us help with our repiping services.
How Do I Know If I Need to Repipe My Home?
Copper piping is used today in older homes that need repiping. Your older pipes may display signs of corrosion, that includes the following:
You may experience low water pressure, when you turn on your sink or bath tub faucets.
Someone else may be in one shower, and the other shower is sending out scalding hot water. This uneven hot water flow is a ready sign, that your pipes need to be inspected and, probably, replaced.
Your hot water takes a longer than normal amount of time to heat up. This delay can be caused by significant problems in your hot water piping system.
The water that comes out of your faucets looks rusted. The rust in your water frequently means that your pipes are corroded and need replacing.
Your home has a pipe leak from an older and damaged pipe.
How Long Will It Take?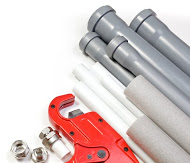 You will need to clear off the walls or clean out from under your sink, before our repair technician arrives. Walls that are in front of other pipes need to be accessible, also. Your water will be turned off during the day, while our technician is replacing your pipes. Replacing your house pipes can take from one to three days, depending on the extent of your repair. You will have one functional bath during the evening hours, when we are not servicing your pipe system.
Who Should I Hire?
Replacing your piping system, with copper piping or other selected piping, requires a specific degree of training. We are equipped to complete disaster restoration repairs, water clean ups and other more extensive projects. There can be some demolition of certain walls, when your piping system is comprehensively corroded. We offer direct solutions for more complex piping concerns. Our plumbers will come out to your residence and sit down with you. A planned estimate is presented to your complete satisfaction.
Want to repipe your Bethlehem home? Call Schuler Service Inc. at (610) 434-7103 today and get the job done with our services!