Prevent A Garbage Disposal Disaster During Thanksgiving
Thanksgiving Means A Lot Of Food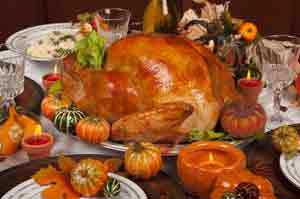 Many people love Thanksgiving because of the fact that food flows freely on this day. Many choose to sit down to a big dinner that may consist of five, ten, or even twenty different types of foods.
Meats, side dishes, desserts and more are served on Thanksgiving, and all of this can end up going down the garbage disposal.
If leftover pie, mashed potatoes, rice, or beans go down the garbage disposal, then it should be no problem.
Those that choose to put very hard foods down the garbage disposal may have a problem with the unit on Thanksgiving day.
Even if hard foods are not put into the garbage disposal, it's still possible for the unit to break if it is overworked. Some will keep the garbage disposal running for a long period of time to get all of the extra food down the drain, and it's possible for the disposal unit to burnout. The unit may have worked fine up until that time, but everything has a breaking point.
Those who are using their Easton home disposal unit on Thanksgiving day should be very cautious about what they put down the drain, especially since it can result in breaking the garbage disposal unit.
What Not To Put In A Garbage Disposal Unit
One of the first rules of using a Easton home garbage disposal unit is never to put bones into the unit. Bones cannot be disposed of in the unit, and they may just sit there until it's taken out.
Anything metal or very hard cannot go down disposal unit, especially since it cannot be crushed up. It's also possible that something metal can break the unit, and the object may ruin the blades as well.
Beware of raw meats because they are hard on a garbage disposal unit. The unit may not be able to shred raw meat completely. Un-shredded raw meat may simply sit on the inside of the garbage disposal unit, and it will begin to smell after a while.
How To Fix A Broken Garbage Disposal Unit
It's very common for garbage disposal units to break on Thanksgiving, so it's not necessary for one to think that they are the only family with that problem on that particular day.
A garbage disposal unit can easily be fixed by a licensed plumber, so the plumber should be called over the Thanksgiving weekend, or when regular service resume.
Don't get clogged up this Thanksgiving in your Easton, PA home, call Schuler Service today at (610) 991-7098.