Hiring a Plumber to Remodel a Kitchen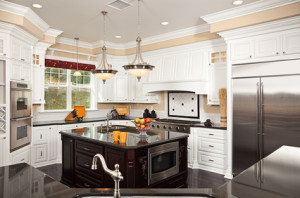 When remodeling a kitchen it's important to get the plumbing right.The work usually requires the relocation and extension of the current pipes and fixtures. In many States, it is usually a prerequisite to hire a professional plumbing service to undertake the task. This is because there are many health codes to be adhered to and a professional is usually familiar with the building codes that cover plumbing. You should also familiarize yourself with the codes to ensure that you are following the required health and safety codes when acquiring the material to use during the kitchen remodeling.
The work can be very technical, so instead of going the do-it-yourself route and ending up costing yourself way more because of a mistake, hire a professional Plumber. They will know the necessary fixtures needed and tell you where to get them at the best prices if you prefer to get them yourself. The Plumber will need to identify the areas where wires for the garbage dispenser need to be relocated, in addition to the wires for the dishwasher and overall, how to align everything properly.
Another Technical aspect is the Drain and vent pipes. They are usually the first to be laid as they are huge. It's much easier to get the big things done first or they will prove difficult to install after all the wiring and other fixtures have been put in place. Plumbers usually start runs at the top of the vent and work downwards. If it is a two-story structure, the work gets even more difficult as the drilling of holes for pipes may be required. There is also the need to install multiple pipe extensions requiring much gluing or mechanical fittings.
Next, is choosing the right hot and cold water pipes, which is most often copper for cold water unless the building code permits otherwise. Again, a plumber would already be familiar with the codes and the holes to be drilled through the floor. This is just a fraction of the plumbing work required during remodeling of a kitchen so it's best to hire a professional.
Thinking about a home remodeling project? Call Schuler Service at (610) 437-7103, your #1 Allentown plumber!