Remodel your Bathroom with a Qualified Plumber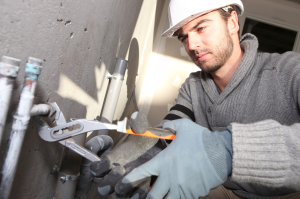 The bathroom of a home is a private sanctuary and an essential room that facilitates both comfort and sanitation. Thus, remodeling a bathroom can have an immediate and positive effect on both the aesthetics of the home and on the home's market value. Although some remodeling can be undertaken by the handy home owner, a qualified contractor is worth the costs in many cases. Furthermore, when it comes to bathrooms, a qualified plumber is an essential part of the remodel team.
One of the primary reasons to hire a plumber when remodeling a bathroom is for warranty service and liability coverage. The plumber you hire should be licensed, bonded, insured, and hold any permits needed to work in the city and state where the work will take place. These credentials are necessary to increase the likelihood that the work will be completed in accordance with industry guidelines and that in the event of malfunction or accident, the homeowner will be separated from any liability for loss or damages.
For example, many product warranties are only valid if the product is installed by a qualified plumber. Warranty replacement is a relatively benign example but there are more concerning considerations. Suppose a mis-installed fixture resulted in a child being burned by scalding bathwater. If the homeowner incorrectly installed the fixture he or she may be held liable for the injury. The licensed plumber not only reduces the likelihood of losses and injury but also carries insurance to resolve the liability should damage, injury or loss occur. This is an important consideration that strongly suggests that a plumber be hired during the remodeling of a bathroom.
Another reason to hire a plumber when remodeling is efficiency. This is evident in both time and cost. The plumber doesn't have another job he goes to during the week or other jobs to do around the house. When you hire a plumber you are paying to have someone devoted to getting your job done. Remodeling can be a tremendously disruptive process to a household. It is worth it to pay someone to help get it over with. 
Hire a plumber for the remodel of your bathroom. You won't be sorry that you did.
Are you looking to remodel the bathroom in your Allentown home? Call Schuler Service at (610) 437-7103 and get started today!