10 Ways to Upgrade the Look and Feel of Your Bathroom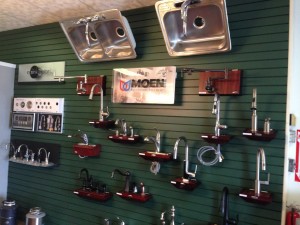 If your bathroom is in need of some sprucing up, there are ways to accomplish this. Simple changes may make some impact, but more worthwhile modifications will need the assistance of a plumber or other contractor. The following are some ideas to bring new life to a dreary or inadequate bathroom.
Spruce Up the Vanity in the Bathroom
New faucets will make that vanity and sink area look more modern and updated. If this entire portion of your bathroom is dated, then you may even wish to change out the entire vanity, sink and faucets.
These three changes will dramatically improve the look and styling of that part of your bathroom where we all spend the most time with all the hair drying and brushing. As well as tooth brushing and other things you do at your bathroom sink to get ready for work in the morning, or for a night out on the town.
Simple things like a new mirror hanging over the vanity, you may be able to handle, but you should leave major changes like installation of new faucets, a sink or an entire vanity to a contractor with some plumbing experience.
Improving the Shower and Bathtub Part of Your Bathroom
There are several individual changes that can be made in this part of your bathroom. If your shower and bathtub are all together as a single unit, you may wish to change this. Separate bathtub and shower areas can enable you to more fully customize each.
You may want to add a glass door to the shower, and retire that old shower curtain. Whether your shower and bath are together or not, you should consider a new shower head both for increased functionality with various water flow settings and for a better look.
Options for Your Toilet
Perhaps the toilet is not where you want it in the bathroom. If you want it to be more out of the way, a plumbing professional can handle running the piping to make that possible. It could also be old in which case it may need replacing. More simple things can be done with the toilet such as accessorizing them with surrounding shelves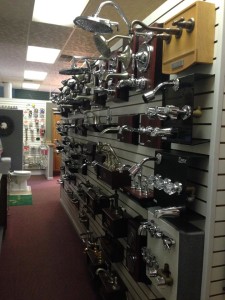 that can carry toiletries.
We have gone over nine ways you can improve the look and feel of your bathroom including changing your faucets, sink, vanity, toilet and shower head as well as moving your toilet and moving or rearranging your bath tub and shower and installing a shower door.
A tenth option may be to paint the room. If you've got a contractor in there anyway doing some of these other jobs, then see what a simple paint job will cost.
Let our team help you design the bathroom of your dreams. Call Schuler Service at (610) 434-7103 for exceptional service in the Hellertown area.