What Is Hydrojetting and It's Benefits?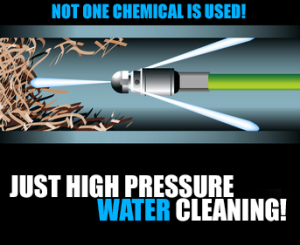 Hydrojetting is a process that is used by highly trained plumbers to clean out clogged sewage lines and drains. We will use a blast of water to take care of clogged or slow sewage lines and pipes. This pressurized water is sent down into the lines and will remove blockages, clogs and build up. The vast majority of hydrojet systems use about 4000 psi. Obviously, this is very powerful. For this reason, it should only be done by professionals. A thorough inspection of the pipes and drainage system, usually by means of a video, will be performed to determine what is causing the problem. Since our plumbers are trained in the use of this system, they know how to avoid damaging pipes and will thoroughly clean out the system.
Hydrojetting Grease
Grease can build up in any plumbing system. However, it is more common to see a large buildup of grease in restaurants. This can backup the entire plumbing system in the restaurant. Fortunately, when our professionals are called to a restaurant, they will be able to use Hydrojetting to completely clean out clogs that are caused by grease.
Hydrojetting Roots
Unfortunately, every single year, homeowners and owners of commercial property have very serious problems with their plumbing systems because of roots that ruin piping under the ground. Fortunately, our professionals are able to help these individuals. It is best to take care of this problem before it seriously damages the pipes, as this can cause thousands of dollars in damage.
Hydrojetting Debris
Hydrojetting is something that is more commonly used in commercial buildings. However, it is beneficial for homeowners to hire our professionals to hydrojet the pipes in their home. The benefit of doing this in either location is that it will get rid of debris that has been building up inside of the system for years. It is especially useful for getting rid of sand and silt buildup that different types of drain cleaners and augurs cannot get out of the system.
Our professionals are happy to help homeowners and commercial building owners use Hydrojetting to ensure that their plumbing systems are working properly. We will use our years of experience, professional training and high quality equipment to diagnose plumbing problems and then fix them.
Stop waiting for the perfect time to take care of your home's drains and call Schuler Service Inc. at (610) 434-7103 today for Hydrojetting services in the Allentown area!