Common Bathroom Problems During a Remodel
Remodeling a bathroom is no small task. Depending on how extensive the remodeling is, there will be a number of things to consider. Here are some tips for getting that bathroom you've always wanted.
Cosmetic vs Major Remodeling
Remodeling a bathroom can fall into two broad categories. If you are replacing light fixtures, towel racks, a counter top or laying down new tile on the floor these would be cosmetic changes. During these types of remodeling jobs, you can still use the bathroom.
You will just have to step over or around the mess while doing so. Then there is more involved work such as replacing a toilet, sink, tub or the plumbing. This is a lot more extensive and will require you to use other facilities while the work is being done.
What to Consider During Remodeling
Let's say you are needing to do a fairly extensive remodel job of your bathroom. Perhaps it is in an old house and it may be the original bathroom that has gone unchanged for a couple decades.
If the toilet and tub are old you may find that they will have to be replaced. These are major undertakings and unless you are a skilled contractor yourself, you will need to hire one. Not only is the work very involved but there will also be local building codes that have to be complied with when doing such work.
Plumbing Considerations and What are the Signs That Major Replacements are Needed
One big consideration will be whether you want everything to be where it currently is once the remodeling is complete. If you want the toilet or tub to be in a different part of the bathroom, this will require moving of the pipes around to accommodate the changes. This is definitely a job that will require a professional plumber.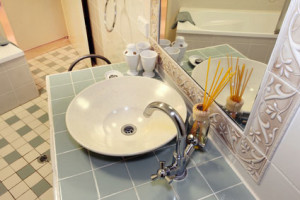 You also may have no choice on replacing the shower if it has certain problems. If the base of the shower has cracks that are causing water to leak onto the floor below, then replacement is a given.
If the door into the shower or the surrounding walls are in such bad shape that they are no longer functional, they will require replacement. You may have a combined set up with a shower nozzle in your bathtub so you would have to consider a tub and shower head replacement if both are in bad shape.
If you hire the right contractor to do the work, you should have your dream bathroom at the end of the remodeling process. It may be a temporary inconvenience, but when it is all over you will enjoy your new bathroom for years to come.
Are you looking to remodel your Allentown or Easton bathroom? Wait no more, and Call Schuler Service Inc. at (610) 434-7103 to see if your bathroom needs a new fresh look.