Ways To Beautify Your Bathroom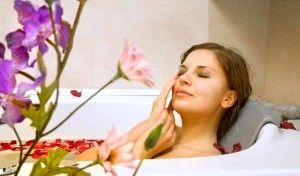 Making a change in your bathroom is absolutely necessary when you are ready to sell your home. You may make changes to the house at any time, and you can create value in the house with simple changes to the bathroom.
Your bathroom can be an oasis that helps you hide in your house away from all the responsibilities you have at-hand.
#1: Ceilings, Walls, Floors
Altering the ceilings, walls and floors will help frame a more beautiful bathroom. The bathroom that you use should feel as large as possible, and the bathroom should provide you with more room to enjoy yourself. The space you gain from simple changes to the room should be reinvested in items that make the room luxurious.
#2: New Bathroom Appliances
New showers, tubs and toilets in your bathroom will instantly change the way the room looks. You can get a new toilet that is much more lovely color than the traditional white that is used. Your new shower may introduce brass or silver hardware into the room, and a new tub may introduce a shape that you have not yet seen.
#3: Brand New Plumbing
Hire a plumber to bring your home up to date. The plumbing in the bathroom is just as old as your house, and there are changes that your plumber can make to the bathroom that are well worth the money.
Changes to the plumbing are needed if you plan on adding new appliances to the room, and you may rearrange the room after the plumbing has been changed.
#4: Hooks, Fixtures And Windows
Making changes to the hooks, fixtures and windows in the room will provide you with a lovely interior view. You can create a place to relax that feels more like a sitting room than a bathroom.
You will thank yourself when you have spent just a bit of time changing the design of the interior of the room.
Your bathrooms will improve immediately when you are making the suggested changes in this article. You must make as many changes as you can before you sell the house, or you can make the changes to help improve the overall comfort of your home.
Your Whitehall home deserves a beautiful bathroom. Call Schuler Service at (610) 434-7103 for a remodel you can be proud of!