Schuler Kitchens and Baths owes a lot to the incredible people that make up their experienced, friendly, and professional staff. Over the years, Schuler has evolved to become the premier name throughout Allentown and Lehigh Valley for state-of-the-art kitchen and bathroom remodeling.
In this article, we are talking with Schuler Kitchens and Baths showroom manager and interior designer, Sarah Thew. "Schuler is proud to deliver beautiful, modern, and highly functional results each and every time we go to work for you," says Sarah.
Sarah earned her Bachelor's degree in Fine Arts from nearby Arcadia University, which makes her uniquely qualified for the versatile demands of the interior design industry.
Prior to joining the Schuler Kitchens and Baths team, Sarah had over 20 years of kitchen and bath design experience, as well as experience in project management.
In her current role at Schuler, Sarah is responsible for maintaining the showroom and vendor relationships, updating displays, estimating job costs, and, most importantly, working with customers to design the kitchen or bathroom of their dreams!
Recently, we had the opportunity to sit down with Sarah to discuss her expert-level design knowledge. Courtesy of Schuler Service, we're here to give you the inside scoop on home kitchen and bath remodeling, directly from a leading expert!
We asked Sarah to give us an inside look at the latest trends in kitchen and bathroom remodeling;
Q: What's Your Favorite Part About Your Job?
A: Client relationships. I love when my clients go from feeling overwhelmed, to happily envisioning their new space. Final walk-throughs are amazing, and standing in a space that perfectly captures a unique vision is wonderful.
Q: Are There Any Projects That Stand Out as Especially Meaningful?
A: There are so many! The best projects are always the ones that were collaborations between the client and myself. My job is to aid in and revise the design our clients have already envisioned, and make it a fully-functional reality.
Q: What Are Some Current Design Trends in the World of Kitchen and Bathroom Renovation?
A: Mixing metals is hot this year. With so many great finishes to choose from, there's no reason to settle for just one! You can give your space the "wow" factor it deserves by mixing it up a little.

Undermount sinks have also evolved. There are now many sizes available, both with double bowl and single bowl, as well as apron-front sinks. This is ideal for a client without ample countertop space, and it's a great solution for any kitchen. Say goodbye to the struggle of having your dish drainer or cutting board on the countertop and colander on the bottom of the sink!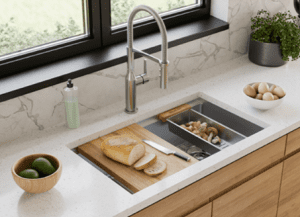 Q: What is One of Your Personal Favorite Current Design Trends?
A: Smart homes are the way of the future.  Many homes now have apps that control your temperature, your alarm systems, and your watering systems.  Voice-activated shower and kitchen faucets are now available as well. You can even have your shower heated prior to entry or ask your kitchen faucet to give you precise measurements!

Q: What Kitchen and Bath Design Trends are Becoming Outdated?
A: Faucets with a waterfall-type spout and faucets with a 4-inch center distance from handle to handle are now an outdated trend. Not to mention, they can collect hard water and be difficult to maintain.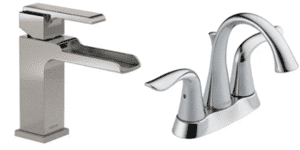 Faucets with an 8-inch center distance from handle to handle are ideal, and black and gold colors are a new trend for 2021.
Thank you Sarah! Your professionalism and experience means everything to your customers! For any and all your kitchen and bathroom renovation or remodeling needs, be sure to contact Schuler Kitchens and Baths. To learn more about the work they do and their process, click here! They look forward to assisting you in the future!