History Lesson: Learn About the History of Plumbing in the Buildings of the Northeast
If you think about it, the ability to turn on a faucet to get clean, running water, hot or cold, is an amazing feat. It wasn't too long ago that Americans still used outhouses and hauled their own water from wells, cisterns, and rivers.
Indoor plumbing wasn't widely available until the mid­ 1850s, and the plumbing profession is a relatively new one.
Several major milestones occurred in Northeastern America during the 1800s. Here's a brief overview of plumbing history from the 19th century, a period of rapid changes and discoveries.
The 1840s: The Early Years with No Indoor Plumbing
Medical and scientific knowledge grew by leaps and bounds. People gained awareness that exposure to sewage and wastewater could cause diseases and ailments. The problem was figuring out how to effectively transport clean water and remove wastewater.
Only the wealthiest citizens at the time could afford to have indoor plumbing. The costs and labor involved were just too much for the average family. The Tremont Hotel in Boston made history by becoming the first hotel in America to install indoor plumbing and had built eight "water closets."
The Croton Aqueduct System Supplies Fresh Water to New York
In 1842, the Croton Aqueduct System officially opens to much excitement. Manhattan was a lively place in the 1800s with its population rapidly growing. This increase in people created a strain on the fresh water supply which was mostly retrieved from local waterways that were now polluted.
The Croton River, which was approximately 40 miles upstream, supplied city dwellers with fresh, clean water straight to their homes. Citizens no longer needed to use wells, cisterns, or buckets from polluted local bodies of water. The ability to transport clean water a long distance was a major milestone in plumbing history.
The New Possibility of Indoor Bathrooms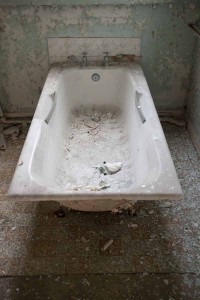 In the mid­ 1850s, it became economically feasible for average families to install separate indoor bathrooms (good­bye outhouses!).
The improvement of mass production made the parts required for indoor plumbing systems much more affordable and indoor bathrooms became all the rage.
Extra bedrooms once reserved for guests or hobby rooms were converted to bathrooms. And from the mid ­1850s onwards, separate indoor bathrooms were built into all new homes.
 Trees Play an Integral Role in Plumbing
During the 1870s, builders used what materials were available to create pipes for plumbing systems. Since trees were plentiful, hollowed out logs were commonly used. Although copper tubing was first introduced across the nation after the first World War, it wasn't until the 1960s that metal was widely used for indoor plumbing systems.
Between the years 1920 to 1954, the plumbing profession enjoyed a major boom with huge sales of home plumbing products and heating systems that turned the industry from a million­ dollar one to a robust billion-­dollar one.
Schuler Service has a plumbing history in Allentown, PA dating back to 1923. Our team of experts is on call 24/7 for emergency plumbing and same day service. Call us today at (610)­ 434-­7103 to book your appointment.