Kitchen remodeling is one of the most common home projects on our customers' to-do lists. It's the heart of your home, the one room that sees the most consistent use and the area that most homebuyers notice before any other. That's why it's so important to keep your kitchen looking current and clean with a quality remodel.
At Schuler, we only want the best for you. That's why we're calling out eight design trends that are well past their prime.
Tile Countertops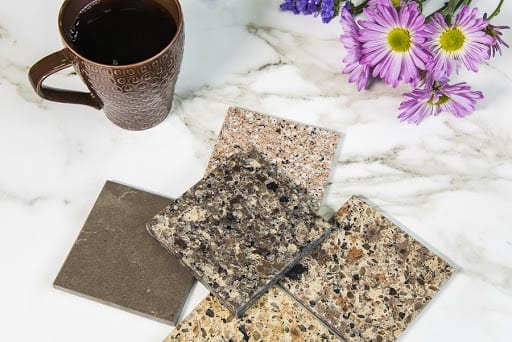 Throughout the 70s and 80s, tile countertops were all the rage. This counter surface style recently made a comeback as well for those trying to achieve a "minimalist" look for their kitchen.
While it's less expensive than granite or marble, it's nearly impossible to clean. Digging crumbs, sauce, and other gunk out of grout lines is no fun for anyone. So don't bother! Additionally, tiled counters are especially prone to chipping, cracking, and staining.
Naturally solid countertop surfaces are still the ideal choice for counters, but if budget is your primary concern, many design experts also recommend laminate or stainless steel.
Brass Hardware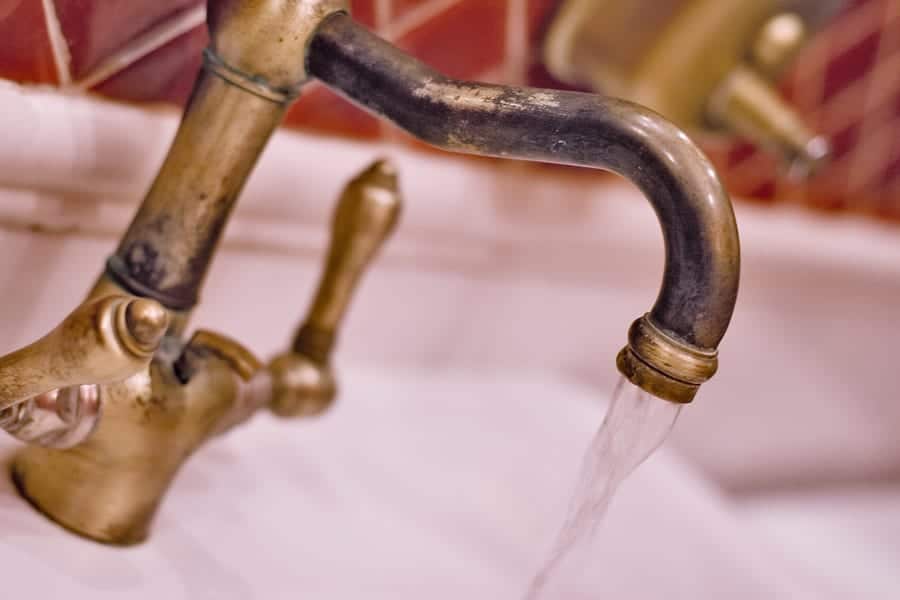 Although most interior designers agree that metal is still the way to go for fixtures and accessories, the harsh, "well-used" look of brass hardware doesn't do your kitchen any favors when it comes to a sleek, modern look.
Luckily, changing hardware elements such as cabinet knobs, drawer handles, and faucets is one of the fastest and most inexpensive parts of a remodel. To ensure your kitchen pops, the pros recommend brushed or satin nickel or stainless steel materials.
Over-the-Range Microwaves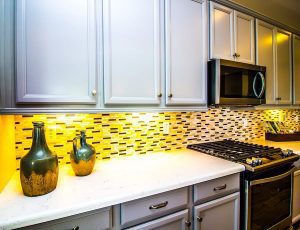 It's been a remodeling staple for years, but honestly, nothing says "after-school specials and frozen meals" like an over-the-range microwave setup. Yes it's a space-saver, yes it's practical, but this style is all but out-the-door in 2019.
These days, new home shoppers are primarily concerned with universal design principles.You can still make your microwave accessible to everyone, but it doesn't have to be the center of attention.
Consider under-the-cabinet or counter mounts instead. You may even be able to get yourself a microwave drawer if you're feeling ambitious enough.
Pot Racks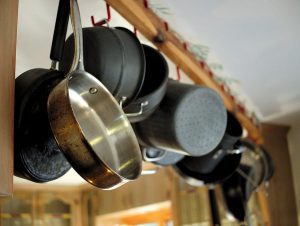 Clean, straight lines are the way to go when it comes to up-to-date kitchen design. A hanging pot rack is completely the opposite of that. Pot racks can make your space look cluttered and hectic.
Additionally, storing your pots and pans by suspending them from the ceiling means they need to be dusted regularly to prevent debris from falling onto your food prep stations. That's disgusting.
Most modern kitchens provide you with large, deep drawers to safely stow all of your cooking utensils. However, many designers suggest building cabinet rollouts if you're up to the task.
Distressed or "Rugged" Cabinets

The "country-kitchen" look is a popular one, but it's also rapidly falling out of fashion. When choosing your new cabinets, try to stay away from rustic looks. They tend to look busy and hard, which isn't what you want nowadays.
Clean and subtle wood tones and crisp paint colors offer a much more current look. This is sure to attract the eye of any potential buyers during a resale.
Ornate Cabinets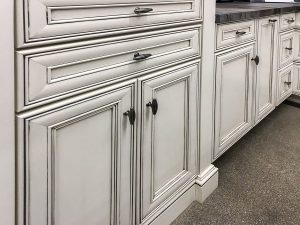 Just because we advised against old-school country-bumpkin design elements in your cabinets, doesn't mean you should go over-the-top with a gaudy and intricate motif.
Unless you're a member of the British royal family, it's unlikely that the architecture of your house calls for the regal and majestic cabinets.
You can still add striking design elements to your kitchen through the use of simple grooves, smaller knobs, and perhaps even handmade textures.
Farmhouse Sinks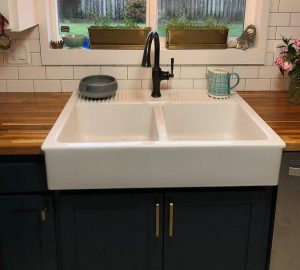 Oversized and spacious farmhouse sinks were once very popular with the "rustic country" crowd, but that's no longer the case. It's got throwback charm in spades, but it's not for everyone.
If you're looking for a sink that's as practical as it is timeless, lean towards stainless steel. It'll stay in style for longer while remaining easy to clean and roomy enough to meet your needs.
Open Shelving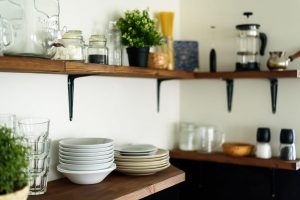 Don't get us wrong, the right amount of open shelving can look immaculate when it's done perfectly, but not all DIYers are experts in HGTV photography and interior design.
Also, open shelves just aren't practical. Most homes won't have that perfect amount of empty space that makes open shelving look good, and even fewer homes have the shelf space for artsy decor and useless knick-knacks.
A few, well-organized shelves of the right size and the perfect cabinets can help you pull off this trendy look, but it's best to keep it simple.
If you're thinking about tackling a kitchen or bathroom remodel project but don't know where to begin, contact the amazing remodeling experts at Schuler Service today! We'll make sure your job is done right.