4 Top Plumbing Myths Debunked
Keeping your plumbing system working in top shape should be a priority for any homeowner. But, in the age where plenty of homeowners take their plumbing problems into their own hands, there are still a few misconceptions out there about plumbing that may be costing you.
Whether it's pushing you towards an emergency or costing you thousands in future repairs, it's time to debunk some of the most popular plumbing myths.
You Can Throw Anything Into Your Garbage Disposal
If it were up to some people, they'd throw just about anything and everything down the garbage disposal. Bones, chicken skins, vegetable cuttings, you name it, your garbage disposal can handle it.
However, that's not the case, and it may lead to significant damage. Although your garbage disposal has blades that can cut through plenty of items, it can still deteriorate if you throw certain things into it, including:
Bones.
Eggshells.
Coffee grounds.
Fibrous scraps (celery, potato, carrot).
Cooking grease.
Not only does your garbage disposal struggle to process these items, but for smaller particles like coffee grounds, they may find their way into the mechanical components of your unit, and lead to a more severe breakdown.
Rust Around Water Heaters is Normal
Yes your water heater is metal, and yes it's always in contact with water, but no that doesn't mean rust is ok. As water heaters age they may become rust on the outside, but that's never something that should be taken lightly.
Rust is an early indication that a water leak may be on the horizon. In the worst case scenario, a rust spot can be a weak point for a water heater, which may burst with enough pressure, leaving you with some significant property damage.
Leaky Faucets Aren't a Big Deal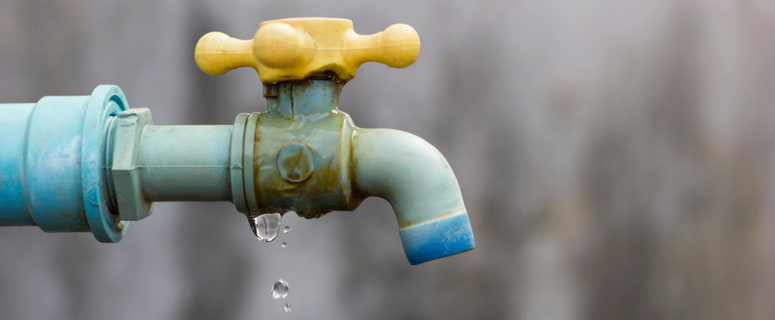 While some homeowners may think it's normal for their faucet to have a slight drip, it may be costing you thousands in wasted water.
A leaky faucet signifies that there's damage to your fixture. Whether it's a damage o-ring or a leaky plumbing connection, dripping faucets need to be repaired quickly.
Over time, these fixtures can cost you in wasted water and water damage, mainly if the water leaking from your faucet is making its way into cabinets or counter spaces around your home.
Chemical Drain Cleaners Are the Way to Go
We're all seen the displays and the photos of chemical drain cleaners that promise they'll remove any blockage no matter what. The fact of the matter is, however, they can cause more damage to your plumbing. This includes:
Plumbing Deterioration: If the chemical can supposedly break down a clog, what do you think it'll do to your plumbing? Some chemicals are strong enough that they can actually weaken your pipes and lead to a severe leak later on.
Clog Remains: Probably the worst part of using a drain cleaner is spending the money only to realize it doesn't do anything to solve your problem. Some clogs are just too severe and require a stronger drain cleaning process like hydro-jetting.
They Can Be Toxic: While the drain cleaner may clear out your blockage, it could also make its way into your water supply. Also, it's not the best idea to have these cleaners lying around, especially if you have little ones.
Call A Plumber Today!
The easiest way to protect your home and get the plumbing solutions you need is to work with a qualified plumbing professional. For homeowners in and around Allentown, PA you can rely on Schuler Service.
With years of experience, the best tools and techniques, and a dedication to our customers, we make dealing with plumbing problems a breeze!