Water Heater Repair Services Near Allentown, PA
Looking for quality water heater repair services in Allentown, PA? Call Schuler Service at (610) 434-7103 for immediate assistance. Click here to take advantage of our current online specials and discounts!
Many different problems can affect your water heater. If your unit breaks down, it can cause you to lose functioning across many different areas in your home. This may be stressful, but if you live in the Lehigh Valley, then you have nothing to worry about. Our technicians at Schuler Service are your premier water heater specialists in the Greater Allentown Area! Take a look at our client reviews to see what your neighbors are saying about our work!
Signs Your Water Heater Needs Repair
Scheduling even basic water heater services will help you find problems before they become major issues. If you notice any rust spots forming, or if you see rust-colored water coming out of the faucet, these are strong signs that your water heater is failing. It's best to contact your technician as soon as possible.
If you notice these or similar issues with your water heater, let us know! We could even locate a factory warranty or notice that will give you a better idea about when to replace certain parts of your unit. When you go with Schuler, you can rest assured that we will  accurately inspect your unit and determine a proper solution for repair.
If you neglect or delay repair on your water heater, further problems can occur. Your unit could start to leak, causing rusted areas to expand. The rust may also continue to seep into your water supply and put your health at risk. Leaks in your water heater could also lead to mold.
To prevent and avoid all of these issues, simply schedule proper water heater repair and maintenance services. Our technicians can help salvage your water heater, or replace it with a newer model.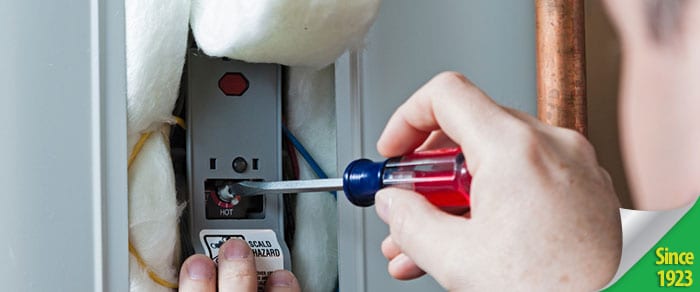 Schuler Service has been perfecting the art of plumbing since 1923. Since then, our industry has continued to evolve with new standards and more advanced technology. However, one thing has remained constant: our dedication to providing the best plumbing service and solutions. If you have questions, we have answers!
Make Schuler your one-stop shop for all your plumbing needs! Call us today at (484) 263-0486 for fast and reliable service!