Schuler Service has Master Plumbers on staff to handle all of your plumbing, heating, and remodeling needs in Whitehall, PA. Take a look at our client reviews to see what your neighbors are saying about our work!
Schuler Service has been perfecting the art of plumbing since 1923. Our industry has continued to change since then, with new standards and more advanced technology to help your home stay safe. But one thing has remained constant: our dedication to providing the best plumbing solutions for your home and business.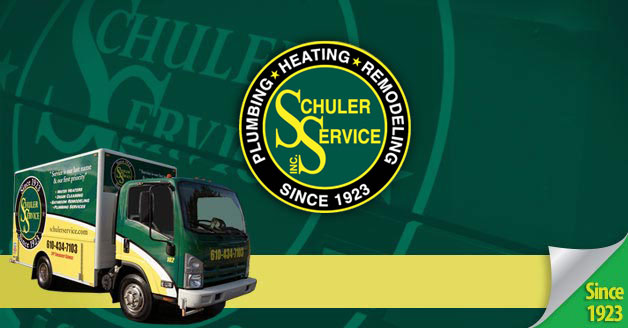 We also…
Install products from major brands, including Aristokraft, Bemis, Kohler, Liberty Pumps, Moen, Sterling, and more. Come by our showroom to learn more!
Feature Master Plumbers and EPA-Certified Renovators.
Provide personalized service 24/7.
Stay active in professional associations, including the Allentown Master Plumbers Association, PHCC, and Better Business Bureau.
Don't Let a Plumbing Problem Ruin Your Mood!
There is no doubt that a plumbing issue can take a toll on your mood for a day–or few. Recurring problems like a leaking toilet or a clogged drain are especially troublesome. That's why we offer 24-hour emergency services! For problems that can't wait, just give us a call and our technicians will get to your home as soon as possible.
Fortunately, many plumbing problems can be prevented with regular maintenance. Get in touch with our technicians to help your home's plumbing system run smoothly for years to come.
Common plumbing issues we help with:
A toilet that constantly runs even minutes after flushing can be detrimental for your water bill. A running toilet can waste up to 200 gallons of water in just one day! This can happen due to a defective flapper, which may need to be replaced or re-installed.
Your shower and tub are also prone to problems that may be caused by other units within your plumbing system. For example, your showerhead can become clogged from mineral buildup in your pipes–this may be due to hard water and require you to install a water softening system. In addition, a clog in your showerhead can affect your entire home's water flow.
Another common issue involves foul odors coming from drains or bathtubs. This is usually caused by issues in the trap. The trap is part of your piping system and it prevents the smells of the sewage system from entering your home. The trap may be causing problems due to drying or a leak. Our technicians will determine the source of the problem and stop the odors from drifting into your home.

Our full-service plumbing, heating, and remodeling solutions cover all of Whitehall, PA:
Video Inspections
Lavatories Repair and Installation
Bidet Repair and Installation
ADA Renovations