One of your responsibilities as a homeowner or business owner is to ensure that your plumbing system is properly maintained. This means enlisting in professional help. Our Master Plumbers at Schuler Service provide repairs, installations, and maintenance services for residential and commercial customers throughout Palmer Township.
Take a look at our client reviews to see what your neighbors are saying about our services!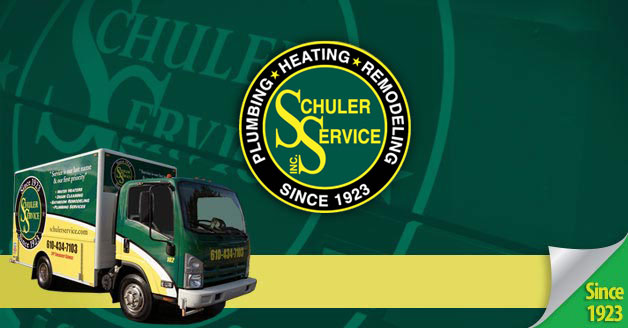 When you work with us, you will get a top-notch team that…
Offers and installs products from major brands, including Aristokraft, Bemis, Kohler, Liberty Pumps, Moen, Sterling, and more. Come by our showroom to learn more!
Features Master Plumbers and EPA-Certified Renovators.
Provides personalized service 24/7.
Stays active in professional associations, including the Allentown Master Plumbers Association, PHCC, and Better Business Bureau.
Common Plumbing Problems
Burst pipes: Your pipes can burst during freezing temperatures. If you know where your main water shutoff valve is located, turn it off. Then call your plumber. We will inspect the problem and either repair or replace the damaged pipe as quickly as possible.
Frozen pipes: Winter can be a trying time for your plumbing system, especially your pipes. Frozen pipes need professional attention right away. During a pipe freeze, water in the pipe expands, leading your pipe to burst. As with a burst pipe, turn off the main water shutoff valve, then call your plumber. Once we arrive, we will get to work thawing the pipes. This should be done gradually to prevent the pipes from breaking. Once the pipes are thawed and water flow is back to normal, we will check for any leaking and recommend preventive solutions to keep your pipes from freezing in the future.
Leaky fixtures: Plumbing fixtures, like pipes, are prone to leaking. A small drip in the kitchen sink can waste several gallons of water per day. Depending on where the fixture is leaking, you can experience water damage on your counter, drywall, flooring, and even your property's foundation if the leak is left unrepaired. While a leaking fixture is not as urgent as a burst or frozen pipe, a plumber should still be consulted to fix your leak. Our plumbing team will assess the problem and replace any worn parts in your fixture. We will also install a new unit if necessary.
Clogged drains and toilets: If you are frequently experiencing a clogged drain or toilet, consult a plumber to diagnose the problem. We will conduct a video pipe inspection to locate the blockage within your pipe system. Then we will remove it using the most appropriate method, either through drain snaking or hydrojetting. If the problem is coming from your septic tank, your tank will need to be emptied.
Low water pressure: If you are experiencing low water pressure, contact your plumber for an inspection. We will check the water pumps and pipes for any damage or leaking. In many cases, your water pump will need to be repaired or replaced.

Our plumbing, heating, and remodeling solutions serving Palmer Township, PA:
Video Inspections
Lavatories Repair and Installation
Bidet Repair and Installation
ADA Renovations