Plumbing problems can happen at any time, often with only subtle warning signs. While minor issues can easily be repaired by the average person, larger problems will require professional assistance. At Schuler Service, we handle everything from sewer and drain problems to water heater installations. Read what our loyal customers in Lower Saucon Township are saying about our work—click here to see our client reviews!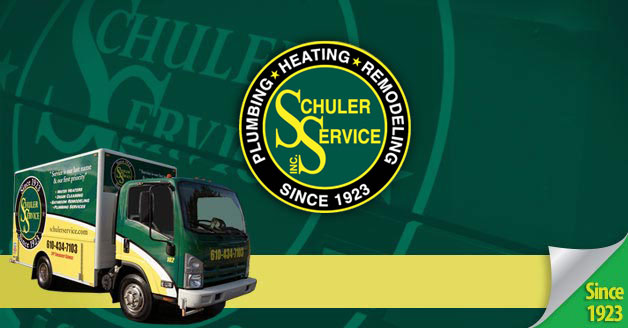 Our technicians are…
Experienced in servicing all major brands, including Aristokraft, Bemis, Kohler, Liberty Pumps, Moen, Sterling, and more. Come by our showroom to learn more!
Master Plumbers and EPA-Certified Renovators.
Available for personalized service 24/7.
Active members of a number of professional associations, including the Allentown Master Plumbers Association, PHCC, and Better Business Bureau.
Stay Up to Date on Plumbing Maintenance and Repairs
Your drainage and plumbing systems are among the most important aspects of a properly functioning home. Lack of maintenance and delayed repairs can quickly cause your system to deteriorate and reduce the overall value of your property.
Failing to adhere to the maintenance needs of your plumbing system can have a negative effect on most of the plumbing units in your home or building. For example, a blocked pipe that is connected to your sink can affect your shower as well, leading to greatly reduced water flow. As a clog builds up, the pressure put on your pipes may result in leaking, corrosion, and even pipe bursts. A pipe burst will cause extensive damage to your property, including your flooring and walls, and even lead to mold growth. If you notice an unexpected spike in your water bill or low water pressure, you may have a damaged pipe that needs immediate professional attention. Contact our technicians for 24/7 emergency plumbing assistance.
In addition to damaged pipes, another common plumbing problem involves clogged toilets. Flushing a host of inappropriate items down the toilet, such as excessive toilet paper, can cause great damage to your fixture and the pipes associated with it. Tree roots can also invade your pipe system outside and cause clogs that affect your toilet. For stubborn clogs, we recommend hydrojetting to completely flush out all debris blocking your drain lines. For easy to reach clogs, our technicians will use a drain snake to break up the debris.

Our plumbing, heating, and remodeling solutions serving Lower Saucon Township, PA:
Video Inspections
Lavatories Repair and Installation
Bidet Repair and Installation
ADA Renovations