At Schuler Service, we handle everything from pipe leaks to clogged drains to hydronic heating installations for residential and commercial customers in the Lower Macungie area.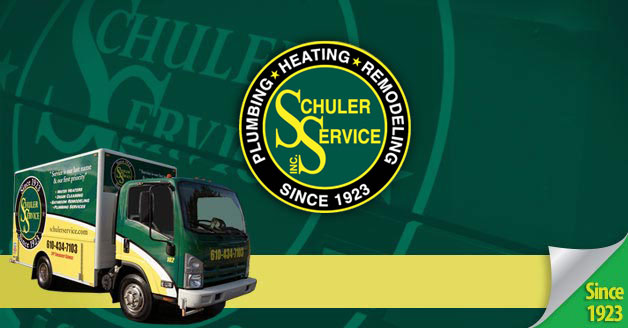 When you work with us, you will get a top-notch team that…
Offers and installs products from major brands, including Aristokraft, Bemis, Kohler, Liberty Pumps, Moen, Sterling, and more. Come by our showroom to learn more!
Features Master Plumbers and EPA-Certified Renovators.
Provides personalized service 24/7.
Stays active in professional associations, including the Allentown Master Plumbers Association, PHCC, and Better Business Bureau.
Below are common plumbing areas that we address on a regular basis with repairs, installations, and maintenance services.
Faucets, fixtures, and sinks: These units are liable to wear out over time and begin to leak. Since your plumbing system is interconnected, your faucet can also become affected with debris from a faulty water heater. Our technicians will help you replace any damaged parts, or install a completely new unit for you if your current one is beyond repair.
Drains: Your drains can become clogged with buildup from grease, food items, hair, and other debris. The pipes outside your property can also experience clogging from invasive tree roots and accumulated sediment. Store-bought drain cleaning products will rarely work on significantly clogged drains. These situations will require professional solutions such as specialized augers or drain snakes that will not harm your pipes.
Toilets: A clogged toilet is one of the most common plumbing problems. Serious clogs can be removed with plumber's snakes. If there is a large blockage in your sewer line, we will perform hydrojetting services to thoroughly clean out your pipes.
Pipes: Pipe leaks can affect the toilet, shower, faucet, and other areas in your property. If you notice a leak, contact your plumber as soon as possible. Leaks can cause mold, mildew, and damage to the structure of your property. Depending on the state of your pipes, we will either repair the affected areas or replace your pipe unit with stronger material.

Our plumbing, heating, and remodeling solutions serving Lower Macungie, PA:
Video Inspections
Lavatories Repair and Installation
Bidet Repair and Installation
ADA Renovations