You don't have to deal with plumbing problems on your own! Our technicians at Schuler Service are always on call to be dispatched to your home for any emergency or plumbing mishap. Contact our team for everything from drain cleaning to water heater repair to kitchen and bathroom remodeling! Take a look at our client reviews to see what your neighbors in Ironton are saying about our work.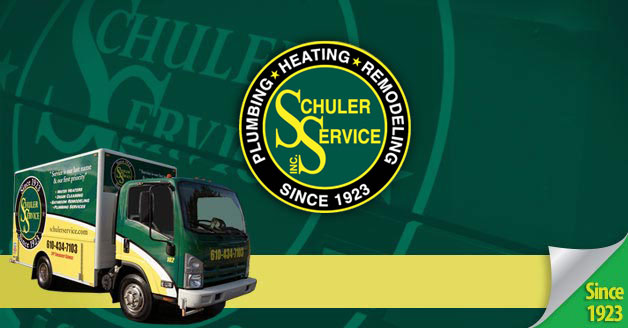 Our technicians are…
Experienced in servicing all major brands, including Aristokraft, Bemis, Kohler, Liberty Pumps, Moen, Sterling, and more. Come by our showroom to learn more!
Master Plumbers and EPA-Certified Renovators.
Available for personalized service 24/7.
Active members of a number of professional associations, including the Allentown Master Plumbers Association, PHCC, and Better Business Bureau.
Are You Experiencing These Common Plumbing Problems?
Running toilets: A constantly running toilet is a common plumbing issue. This is usually the result of worn out parts such as the fill valve or the flapper that controls the flush. Our technicians can remove the faulty parts and replace them with new ones. If your toilet is beyond repair, we will help you choose a new unit and install it for you.
Leaky faucets: Worn out washers are usually lead to a leaking faucet. Our technicians will take apart your faucet and install a new washer in your unit. If we determine that your faucet is beyond repair, we will help you install a new one.
Clogged toilets: A clogged toilet can cause raw sewage to overflow onto the floor. Toilet clogs are usually the result of inappropriate items getting flushed down. Our technicians will remove the clog with a mechanical or electrical drain snake that breaks up the debris causing the clog.
Leaking pipes: Water pipes are usually made out of galvanized steel or copper. Many water leaks occur at the fittings where the pipes are joined together. Our technicians will tighten the metal pipes and re-solder copper pipes to stop the leaks at the fitting connections. If the leak is caused by a hole or break in the pipe itself, we will replace the damaged sections of piping.
Clogged sewer line: A clogged sewer line affects a building's entire plumbing system. Toilets, bathtubs, and sinks will all back up if the main sewer line is clogged. To solve this problem, our technicians will use specialized hydrojetting equipment to force even the toughest obstructions out of the sewer line. This will have your drains flowing good as new.

Our plumbing, heating, and remodeling solutions serving Ironton, PA:
Video Inspections
Lavatories Repair and Installation
Bidet Repair and Installation
ADA Renovations