Count on the Master Plumbers at Schuler Service for all of your plumbing needs in Emmaus, PA. Take a look at our client reviews to see what your neighbors are saying about our work!
Schuler Service has been perfecting the art of plumbing since 1923. Our industry has continued to change since then, with new standards and more advanced technology to help your home stay safe. But one thing has remained constant: our dedication to providing the best plumbing solutions for your home and business.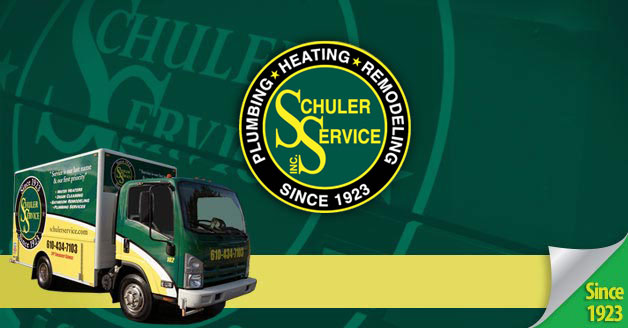 We also…
Install products from major brands, including Aristokraft, Bemis, Kohler, Liberty Pumps, Moen, Sterling, and more. Come by our showroom to learn more!
Feature Master Plumbers and EPA-Certified Renovators.
Provide personalized service 24/7.
Stay active in professional associations, including the Allentown Master Plumbers Association, PHCC, and Better Business Bureau.
Our Plumbing Promise
At Schuler Service, we strive to reflect quality, dedication, and unparalleled skill in every job we handle. We provide repairs and installations on every plumbing and heating issue while advising our clients on best maintenance practices to keep their home running efficiently.
How Preventative Maintenance Can Help
During a routine maintenance inspection, our technicians will quickly identify issues that can lead to problems in the near future, such as trees that need to be removed (to keep roots from invading your pipes) or sewer lines that are starting to smell from backup. Below are some of the more common plumbing problems we handle.
Leaking faucets
A fitting that has become loose or a faucet that needs to be replaced are often caused by leaks. Our technicians will help you replace your faucet as well as recommend the models we think will go well with your sink unit.
Clogged drains
If your sink or bathtub is taking forever to drain, don't try to remove the clog on your own! Store-bought drain cleaners are often harmful for your drains and cause them to deteriorate faster. Call a plumbing technician for help. We'll use the right tools to fix your clogged drain and make sure your plumbing system stays healthy.
Sewer main backup
Tree roots often get into your main sewer lines, causing debris to build up in your pipes. It can be difficult to locate the exact point of damage in your sewer line, and often you will need to enlist in professional sewer line repair services.
Burst pipes
When temperatures dip below freezing, your home's pipes are often the first to feel the cold. When pipes freeze, the water inside builds pressure and causes the pipes to expand. This expansion then causes the pipes to burst. Burst pipes can be difficult to locate, but if you notice low water pressure, leaking, or a spike in your water bill, it may signal a burst pipe pipe and will require immediate professional attention.

Our full-service plumbing, heating, and remodeling solutions cover all of Emmaus, PA:
Video Inspections
Lavatories Repair and Installation
Bidet Repair and Installation
ADA Renovations