Your plumbing system may be intricate, but with the proper maintenance you can have it under control and running smoothly for years to come. Get in touch with our expert plumbing team for immediate repairs or to schedule a routine maintenance check in the Coopersburg area.
At Schuler Service, we are dedicated to keeping your home or commercial property safe by providing the most effective plumbing, heating, and remodeling services. We have been serving Allentown since 1923 and have grown through the years to expand our expertise to the greater Lehigh Valley area. Take a look at our client reviews to see what your neighbors are saying about our services!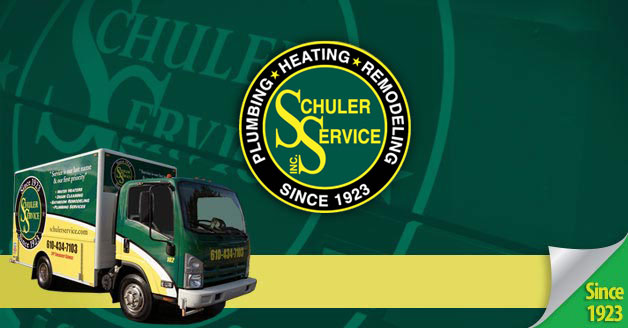 When you work with us, you will get a top-notch team that…
Offers and installs products from major brands, including Aristokraft, Bemis, Kohler, Liberty Pumps, Moen, Sterling, and more. Come by our showroom to learn more!
Features Master Plumbers and EPA-Certified Renovators.
Provides personalized service 24/7.
Stays active in professional associations, including the Allentown Master Plumbers Association, PHCC, and Better Business Bureau.
We understand that you may not always know when it's appropriate to contact your plumber for help; however, we want to assure you that we are available 24/7 to assist you with your most urgent plumbing emergencies. Below are five of the most common problems we handle for our residential and commercial clients.
Low water pressure can mean that your pipes are backed up with mineral deposits. If you are experiencing low water pressure, we recommend calling a plumber immediately. Delaying a proper inspection can lead to costly damage. Our technicians will assess the situation and determine if the pipes can be cleared out, or if they need to be replaced altogether.
Clogged drains result from accumulated dirt, soap grime, food particles, and hair. Water will eventually start to back up. To solve clogged drain problems, call our technicians for professional drain cleaning services. We will use state of the art equipment to clear out your drains. If the clog is deep within your drain system, we recommend hydrojetting for a high-pressure clean that ensures your pipes are completely free of debris.
Jammed garbage disposals are less damaging than other plumbing issues but are no less urgent. An inefficient garbage disposal can actually cause drain clogs, as food items are not broken down properly. Our technicians will inspect your garbage disposal and determine if a repair or complete replacement is more appropriate.
Pipe problems, including burst pipes, are challenging because they can often go unnoticed for a period of time. Your pipes can deteriorate due to old age, mineral deposit buildup, corrosion, an error in construction, and other factors. For damaged pipes due to corrosion, we will perform repiping services to replace your old pipes with newer, more durable material. Severely damaged sewer pipes will need to be repaired using trench/trenchless methods or pipe relining. Ask us about our professional sewer line repairs.
Running toilets are also common problems that are often caused by worn fill valves, a broken flapper, or a leaky flush valve. These are simple repairs that our technicians can accomplish in a matter of minutes.

Our plumbing, heating, and remodeling solutions serving Coopersburg, PA:
Video Inspections
Lavatories Repair and Installation
Bidet Repair and Installation
ADA Renovations