At Schuler Service, we solve all plumbing, heating, and remodeling issues with top-quality equipment, tools, and methods. Our loyal customers in Catasauqua have come to expect our personable technicians and unparalleled solutions—read their reviews here!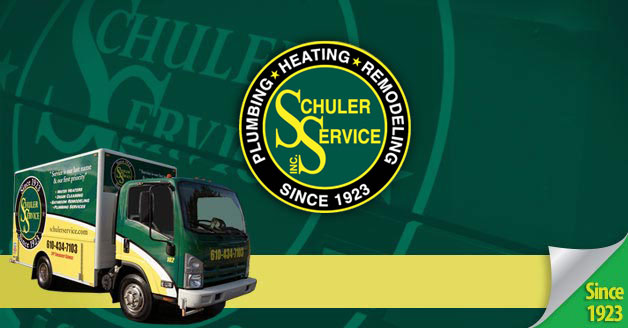 At Schuler Service, our technicians are…
Experienced in servicing all major brands, including Aristokraft, Bemis, Kohler, Liberty Pumps, Moen, Sterling, and more. Come by our showroom to learn more!
Master Plumbers and EPA-Certified Renovators
Available for personalized service 24/7
Active members of a number of professional associations, including the Allentown Master Plumbers Association, PHCC, and Better Business Bureau
Minimize Plumbing Problems With Professional Services
Calling your plumber for assistance as soon as a problem occurs will help you minimize and even avoid damage to your property.
One of the most common plumbing problems is a clogged drain or toilet. Drain pipes are designed to only carry dissolvable waste. If other objects get past the curve trap and into the drains, you will experience clogging. For blockages further in your drain system, we will use special video camera inspections to locate the clog. Once we know the exact location of the blockage, we will determine the best method of removal. We will either perform professional drain snaking or hydrojetting services.
Water heater issues are urgent problems that will need immediate service. A broken thermostat, pilot light malfunction, or other technical problem can lead to water heater issues. Our technicians will determine the root of the problem and carry out the most effective repair. If your water heater needs a complete replacement, we will help you choose the most appropriate unit for your home or business and install it for you.
Another common plumbing problem is a leaky fixture. Not only is the steady drip, drip, drip enough to cause sleepless nights, but the wasted water will also reflect on your monthly water bill. There are several different faucet components that could be causing the leak, including seals, washers, and O-rings that eventually wear out. If your faucet's seals are even slightly damaged, your faucet will begin to leak. These parts must be replaced properly or the entire unit could become further damaged. Our technicians will help you install new parts, and we will even replace your entire faucet for you if we think you will be better served with a new unit.
We also get frequent calls about low water pressure. There are various factors that can contribute to this problem, including clogged pipes, pipe corrosion, and problems with your water line. Because of the wide variety of potential causes for low water pressure, a technician should be contacted to determine the source of the problem. If your water line needs to be replaced, we will make sure that the work is performed to regional plumbing standards.

Our plumbing, heating, and remodeling solutions serving Catasauqua, PA:
Video Inspections
Lavatories Repair and Installation
Bidet Repair and Installation
ADA Renovations