Your Allentown Plumber
Welcome to Schuler Service!
Service may be our last name, but it's our first priority as your plumbers in Allentown, PA. Call us at (610)-434-7103 today — you'll always be greeted with a friendly voice! Click here to take advantage of our current online specials and discounts!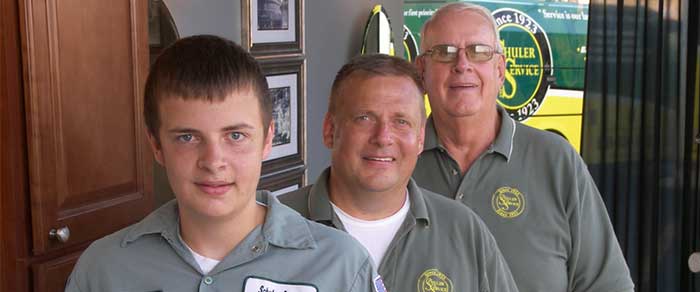 We've been providing quality services in plumbing, heating, and remodeling for over 90 years! When you call us, you'll always be put right through to our helpful staff—even during the weekend and holidays! We feature 24-hour emergency plumbing services because we know the unexpected can happen. When it does, make your first thought Schuler Service!
We proudly serve the greater Allentown area and surrounding areas. Take a look at our client reviews to see what your neighbors are saying about our work!
Full-Service Plumbing Includes Remodeling!
Looking to revitalize your kitchen or bathroom with quality remodeling? Let us design the room of your dreams. Visit our 1,800 sq. ft. showroom today and speak with our friendly, experienced staff. We feature top brands and custom-made products ready for installation in your home—all at an affordable price.
Our Top Services Include:
Video Inspections
Lavatories Repair and Installation
Bidet Repair and Installation
ADA Renovations
Aging-in-Place Renovations
Local Reviews
Rated
4.9
out of 5 stars based on
16
customer reviews
Powered by Nearby Now
---
New Toilet
Shawn

-

Allentown

,

PA



I was looking for a new toilet and I stopped into Schuler's showroom. Ken helped me select a toilet that would fit my needs. Shawn came out to my home, explained all of the costs, installed the toilet, cleaned up the area, and left it cleaner than when he started. My experience with Schuler's couldn't have been better !
---
Great job!
Donna

-

Laurys Station

,

PA



Plumber Steve was extremely professional and yet very personable. He did a great job fixing my leaky kitchen sink and cleaned up nicely afterward. He explained everything he was doing and what it would cost. I would call them (Steve) again for any plumbing problems.
---
New pricing was well explained before the work was started.
Edward

-

Allentown

,

PA



Drew handled the repair in an efficient manner. It was a clean repair. Great job!!
---
Bill
William

-

Allentown

,

PA



Steve was professional, knowledgable, and adapted his solutions as the situations presented. After the initial duscussion of the two issues, he walked through the problems and solutions. In addition, he fielded general questions about a water softener project and we will be calling on Schuler Service for more information and would feel comfortable sending any projects their way. Thanks again Steve.
---
Great service
Katherine

-

Macungie

,

PA



Had an emergency and they were very responsive and resolved my plumbing problem.
---
Pleased with service.
Robin

-

Allentown

,

PA



They were easy to work with to accomodate my work schedule. They were prompt and very tidy. Took time to explain what needed to be done. Definitely would recommend Schuler Service.
---
Effecient, knowledgeable, prompt
Carole

-

Allentown

,

PA



Shawn and Steve worked in tandem and got the new toilet in and made two sinks work much better. I appreciated the way they clearly explained what was going on in the house's plumbing.
---
Shawn was great!
Rick

-

Macungie

,

PA



Shawn was fantastic. Extremely professional and courteous.
---
Great Service. They men were terrific.
Jim

-

Allentown

,

PA



---
Sink Replacement
Rich

-

Macungie

,

PA



---
Excellent and honest service!
Jen

-

Center Valley

,

PA



Shawn Is knowledgeable, professional and courteous.
---
Response from Schuler Service Inc.:

Thank you Jen, we appreciate your business.
---
Nice work..Shawn was very accommodating in arranging his schedule
Denise

-

Allentown

,

PA



---
Response from Schuler Service Inc.:

Thank you Denise for your patience with this job, and I look forward to working with you again.
---
Good Service
Jamie R

-

Emmaus

,

PA



---
Response from Schuler Service Inc.:

Thank you Jamie, glad we could help you.
---
Great Service and Great Work
Denise

-

Macungie

,

PA



We know Shawn from his days when he had his own plumbing company and have always found him to be professional, courteous prompt and reasonable when performing his work. He arrives on time, provides an estimate and does a very nice job. Not only does he do the work requested, in this case, repairing a leak in a pipe, but he also checked other components of our water system and in this case found that our expansion tank above our water heater was faulty and replaced it as well. I would highly recommend him.
---
Response from Schuler Service Inc.:

I appreciate the kind words Denise, and thank you for your business.
---
Excellent Service
Jose

-

Allentown

,

PA



Prompt, professional. Highly recommend.
Looking for a quality plumbing and heating contractor in the Allentown area? Call Schuler Service today at (610)-434-7103 for immediate assistance!